Protect your investment and PERFORM BETTER with OnIt Pro! Canadian orders go to: seagods.ca
Internationl Dealers:
Canada:
Japan:
Zebugs are here! The only place in the world to find them.
CHECK OUT OUR FACEBOOK AND INSTAGRAM PAGES FOR DEMOS AND PHOTOS.
100% Satisfaction guaranteed!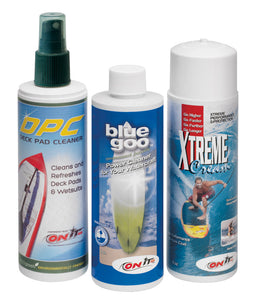 FREE SHIPPING OFFER
DOMESTIC ORDERS ONLY
INTERNATIONAL ORDERS CONTACT: erik@onitpro.com for additional discounts.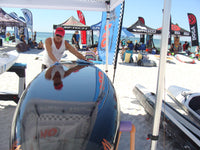 Keep your equipment looking and performing at its best with OnIt Pro products.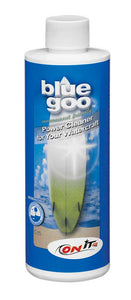 Watercraft care and performance products
Organic deck and paddle waxes
About OnIt Pro
Based out of Southern California, OnIt Pro was founded in 2007 by avid surfers to give you the highest quality surf and water sports products with the promise of excellent customer service.
Keeping the beauty of our oceans in mind, all OIP products have the seal of green and are safe to use for our environment. That is our commitment to future generations who want to enjoy a clean and healthy planet we all love and cherish!
OnIt Pro is quickly becoming a world wide brand as many great champions boards and water crafts are using our products and sporting the 'OnIt Pro' logo. With thousands of visits on top of the podium, we're keeping your equipment protected, clean and performing at its best, and aim to keep it that way!
Our eyes and ears are open to our customers needs and wants and we'll make sure we continue to provide you the products and service you expect from our brand.
"Champions Trust OnIt Pro"--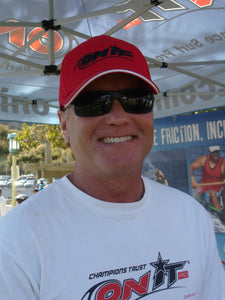 Testimonials
"Great product it really works"
"Have been looking for a product to clean the grime away and also one to reclaim the finish. Blue goo and Xtreme clean did both and better than I anticipated"
"Works well and added new gloss to my surfski"
"Blue Goo was amazingly easy and fast, and XC was awesome! I put on one application that lasted for over a month. I love the product!"
"Everything arrived on time, safely packages, AND free Board Wax and Stickers. Thank You OnIt Pro. Shaka"
Blue Goo

Removes the toughest stains like tar with ease!
Just like new!

Doesn't hurt surface
Brings your craft back to life!
Removes oxidation and sticker residue.
Like new!

Water based products.
Blue Goo
Removes the toughest stains like tar with ease!
Just like new!
Doesn't hurt surface
Brings your craft back to life!
Removes oxidation and sticker residue.
Like new!
Water based products.
OnIt Pro High Performance Watercraft Products
DPC featuring Jeramie Vaine
DPC Wetsuit/Bootie refresher
Connor Baxter

5 Time M2O Champion
World Champion Paddler Danny Ching
SPEED IS EVERYTHING

Founder and CEO, Erik Nordskog
Connor Baxter
5 Time M2O Champion
World Champion Paddler Danny Ching
SPEED IS EVERYTHING
Founder and CEO, Erik Nordskog
Thank you for visiting us!
ONIT PRO, LLC
Founded in 2007 by surfers, athletes and performance enthusiasts, OnIt Pro has been a leader in the development of High Performance watercraft performance and maintenance care.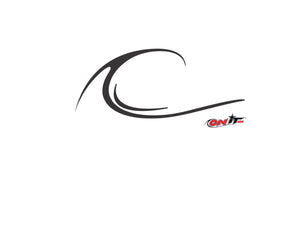 Custom content
More Testimonials
Danny Ching
OnIt Pro's, XC, helps raise my performance to the next level!
Chuck Patterson
Speed is everything, Xtreme Cream works great, It's on all my boards!
Thanks for the amazing product!
Rob Rojas
I will not race with out a good coating of Xtreme Cream by Onit Pro on my board! The stuff rocks!
Connor Baxter
OnIt Products are great! XC, basically slides across the water which makes it easier to get on the swells. The more swells you get, will help you win races. If you don't have XC on your board, it's a lot more work and less time on the swells.
Brandi Baksic
I train hard day in and day out. Using OnIt Pro's product, Xtreme Cream on my boards, ensures that all my hard work pays off by increasing the performance of my equipment. Thanks for the glide!
Thomas "Maximus" Shahinian
I just applied a fresh coat of XC last night which is my standard Pre-Race ritual before every race! Any, and every, Edge in Competition makes a difference, and if your competition is using it and you're not, big mistake!
Brian Haag
I put it on before every race that way I know my board is at its fastest!
Wally Emory
I'm very impressed with the technology and ease of use. I have Matt Becker to thank for bringing me to your demo.
TJ Saeman
Chuck Patterson let us use some of the cream for a bunch of our races this year, and it worked insane! Thanks so much.
Byron Kurt
On it Pro gives me the confidence to know that I have prepared my board to maximize speed and be able to just go paddle hard during races and surfing to get the best results.
Alan Chalom
I put your Xtreme Cream on one of my big wave boards, it flew!
Sandra and Dan Olsen
Love! Love! Love the Xtreme Cream!! It's like I have a brand new board... super fast, much more responsive, I know this will become another of my favorite boards now! I am a huge fan!
Tom and Pat Curren
We love it!
Billy M. Kho
I must say, I love the OnIt Product!
Kanoa Igarashi
XC is working great! I set a new NSSA record of 30 wins and won five championship titles using it! I put it on before every contest.
Karen Wrenn
My new Naish was even faster with your help!
Pake Salmon
I love Xtreme Cream, by Onit! I put it on all my surftech surfboards and it REALLY adds more speed to my performances on the waves. I also use XC for my stand up paddle boards for added glide when I am training doing long distance runs! It works very well! Try it!
Dimitri Papavassiliou
XC is amazing and has been working great on my boards. Thank you so much for introducing me to your great product which has played a big role in pushing my surfing to the next level.
Travis Baptiste
~Maui Rippers~
Hey guys I just wanted to say that I truly believe in your product it really is amazing, and I know it works. Thanks for putting me on your team!
Chris Love
I like Xtreme Cream because the minute I put it on my board I felt a difference. Now I am flying through sections when I used to have to fight to get around them.
Michael Gumina
I met you at sacred craft I'm 13 years old from La Jolla. I just wanted to let you know i have been using your product and i have definitely felt the difference using it. Lately this wave I've been surfing in PB has been really mushy but I've been making the most impossible sections my board has been flying
Lance Erickson
Thank you for getting me hooked on OnIt Pro. I am a believer...
Michael Tessier
OnIt is the #1 choice for your next SUP race!
Ian McFarland
I have been killing it still. I just won the East Coast Paddle Board Championships in the unlimited division. Did a personal best of 6 miles in 58:44. On It Pro's, Xtreme Cream has created a monster out of any board I put it on!
Orion Adamson
I find the Xtreme Cream amazing. I glide through the water like butter. Thanks for the hook up.
Roger Mann
~President of the Long board Collectors Club~
As an older surfer, I appreciate whatever added speed it provides down the line.
William Scribner
I treated a 20;10: surfski with the two step procedure and achieved the following results and impressions:
I used a 15 minute count-down timer, approached and passed the marker for the timer to sound, no sound, fifty more yards of shoreline, no beeper, One minute sixteen seconds ahead of the usual workout given the same distance.
After a rest day an additional 37 seconds was saved over the same distance!! Good product.
I have found that the period of time between applications is longer than it was for polishing/waxing and I spend about a third less time in hull preparations.
Paddling easier, Willy.
Andy Pruter
This stuff rocks! I broke my Webber and took an old Merrick out of the rafters and brough it back to life.
Frank Neimeyer
The Xtreme Cream that you put on our race board at the The Battle of the Paddle" I'm sure helped propel the girls board to the first All Ladies team to cross the finish line at that great event in October.
Bob Purdy
I finally had a chance to try your product and it works great! Since I returned home I have opened a new store and I would like to carry your line here.
Christina Powers
Used both the Blue Goo and Xtreme Cream for the Catalina Classic and had a great race!!! I really think it improves how the board cuts into the water. Thank you so much for letting us try it, I have been telling the Mermaids and the other paddlers about it.
Great Job!
Mel Puu
" Blue Goo was amazingly easy and fast, and XC was awesome! I put on one application that lasted for over a month. I love the product!
Rori (Maverick) Cissell
"I really enjoy the product. I put it on my other boards and it works awesome I really like it the board is super fast!
Buzz Lovelace
I used the product you gave me at the even on my Bing. It came out like a baby's bottom. Now, I can do my Greg Liddle, and then off to Scorps.
Charlie Doty
~Pismo Longboarders~
At the Call to the Wall surfing contest, I had the bottom of my board cleaned with OnIt Pro's, Blue Goo. I don't think my surfboard had ever been that clean, not even after it was polished at the surfboard shop. The product worked and my board paddled much faster and was more responsive.
Dino Andino
XC is Sick!
Ryan James
~Team Rider:
Starboard/The SUP Store~
I bought some Xtreme cream just before a 20 mile Enduro Paddle Race - the sensation was unbelievable and the board tended to slip through the water like a hot knife through butter - I definitely noticed the 15% improvement.
The cream has taken me through the SUP Distance-Racing season to 2 x 1st places; 2 x 2nd places and 1 x 3rd place, where my highest place during the previous season was 8th.
It's made a big difference to the way I paddle and my preparation now always includes Xtreme cream.
And the best thing is it lasts, whether you're doing SUP Surf or Distance, you'll feel the difference!
Carl Reynolds
We met at Roadford and I am supported by Gary Jones at Sunset club and am on the Starboard 12' 6'' race team.
I have to say I have used Blue Goo and its great at cleaning the board and Xtreme Cream does leave a really slick finish on the base, so my experience is similar to Ryans in that I have taken a couple of podium places this year, I think it does help especially over distance.
I have also used the cream on a jetski and can say that the following day I was able to hit a higher top speed in similar conditions.
I do think its a good product!
Jamie Donnelly
~Stand Up Paddle Company~
~Laguna Beach, CA~
You are the bomb! I know I speak on behalf of everyone when i say: you, your crew and your product kicks bootay!
Juan C. Aguirre
~San Juan, Puerto Rico~
I bought from you an OnIt Pro package about two weeks ago.
This past Sunday my daughter and i tested it on our surfboards.
WOW!! Great Product!!!!!
We could paddle easier towards the wave and getting the wave required less effort!
Chip Bock
Melbourne Beach, FL
On It Pro has been FANTASTIC! Did 6 miles the other day on the Garnd Canal here in FL on my new 14' BARK and averaged 10.5 min. miles; awesome increase in glide and speed with On It Pro. It has been so good, I keep reapplying (its becoming an addiction lol) and so I am starting to run out; been putting it on all my boards and fins; GPS don't lie, On It Pro definitely makes the difference!
Slater Trout
Junior Waterman of the Year
The Xtreme Cream is epic! I made a section I didn't think was possible on such a little board, but if it weren't for that little extra edge of speed, I don't think I would have come out! Stuff is sick!!
Christine Graham
I just used the Blue Goo on my C4 that I thought was beyond human aid. It's been ridden through the rocks, dropped in the parking lot, stuffed in the car with other boards, I have not given that board much love. Well, I wish I would have taken a before and after shot. What a BIG difference - it looks brand new. Thanks Again... and hope to see your tent at the next event.
Mark Colino
Stand Strong Sales
We had two rare glassy mornings in a row (18 & 24 degrees out!) 1st day paddled "as is" & 2nd day with OnIt Pro applied. It was like greased lightning! I can't wait to do my other boards!