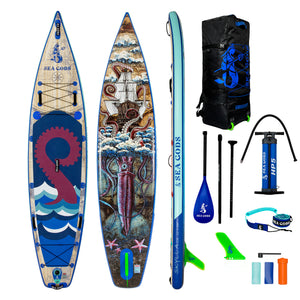 The Carta Marina 12"x32"x6" ISUP by SeaGods
Nautical Nonsense art piece by Jenny Kirby
Experience the Newest Cross Weave Drop Stitch Technology, creating the ultimate rigidity and strength while 20% lighter and, will keep you straight on track to go further with less effort. Meticulously handcrafted for stability with premium materials and stocked with the highest grade accessories, (storage bag, paddle, pump, leash this complete package is ready for your new adventure on the water.
Lifetime warranty from the manufacture!
ARTIST
Jenny Kirby With talent in a vast array of artistic expression, Jenny Kirby began creating this style of "Nautical Nonsense" in her career as a Set Decorator in the Vancouver Film Industry and it became hugely popular with Tiki Bars and Deep Sea Divers alike. A surfer, paddleboarder and busy mom, Jenny escapes to the wild elements in Tofino on Vancouver Island's west coast as often as possible.
ISUP ACCESSORY PACKAGE

 Carbon fiber 3 piece paddle
Wheeled hiking backpack
Triple action high pressure dual chamber pump
US fin box with new Flexible Click Fin proprietary Kumano System. Fins Click in! NO MOVING PARTS, NO SANDY FITTINGS, NO TOOLS REQUIRED

Kumano Plugs pressure fit to hold fin in place. Comes with 3 plugs for user adjustability and secondary screw just in case!
specially formulated construction for flexibility. Never break another fin or fin box.

Maintenance kit with Halkey Roberts wrench
FREE 11' Sea Gods coil SUP leash
Kayak seat and paddle attachment not included