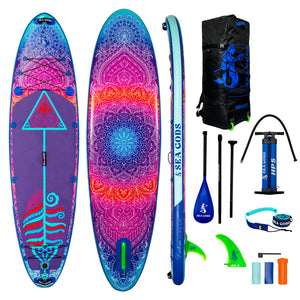 The Diatom Ten6 Inflatable Paddle board gives you everything you want in a Paddleboard- stability, maneuverability, total accessory package, and great looks.
Best Board for a Beginner, really fun for riders of all skill levels.
10'6" x 34" x 6"
All Around Stable Paddle Board
ARTIST
Jamie Locke

Jamie Locke is best known for her intricate hand-carved mandalas on wood, metal, glass and leather. A self-taught artist, Jamie is adept at taking a vision and turning it into reality. Her strength is in her hunger for creating, and exploring different methods and mediums, always bearing in mind that in the creative process the vision sometimes evolves into something completely unexpected. "For me, the process of creating a mandala is always one of inspired revelation, elemental surprise, and pure bliss." Whether she is carving, drawing or painting, her desire is to always breathe positivity into the world and hopes that her creations will inspire, encourage and uplift. Jamie predominantly works creating one of a kind commission works.
Experience the Newest Cross Weave Drop Stitch Technology, creating the ultimate rigidity and strength while 20% lighter and, will keep you straight on track to go further with less effort. Meticulously handcrafted for stability with premium materials and stocked with the highest grade accessories, this complete package is ready for your new adventure on the water. Lifetime warranty from the manufacture.
Manufacture lifetime warranty!
Carbon fiber 3 piece paddle
Wheeled hiking backpack
Dual Chamber, triple action high pressure pump
US fin box with new Flexible Click Fin proprietary Kumano System. Fins Click in! NO MOVING PARTS, NO SANDY FITTINGS, NO TOOLS REQUIRED

Kumano Plugs pressure fit to hold fin in place. Comes with 3 plugs for user adjustability and secondary screw just in case!
specially formulated construction for flexibility. Never break another fin or fin box.

Maintenance kit with Halkey Roberts wrench
FREE 11' Sea Gods coil SUP leash
Kayak seat and paddle attachment not included